Vienna Symphonic Library has updated its free Vienna Instruments player with the ability to integrate the optional MIRx Reverb Mixing Extensions.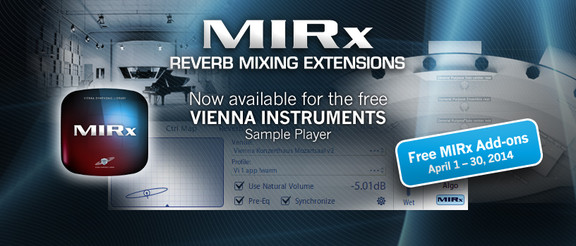 Last year, we released the MIRx Convolution Reverb Extensions, providing an easy and affordable way to experience the power of our innovative Vienna MIR PRO mixing solution directly in Vienna Instruments PRO. Now, we've gone one step further and updated our free Vienna Instruments player to run the MIRx Extensions as well!

To mark the occasion, we've created this special offer!

Only in April 2014:

Spend €300* or more on our sample library products* and receive a free MIRx Reverb Mixing Extension (a €79 value) of your choice!

Spend at least €300* to receive one free MIRx add-on.
Spend at least €600* to receive two free MIRx add-ons.
Spend at least €900* to receive three free MIRx add-ons.

*This offer is valid for accumulated purchases of Vienna Symphonic Library sample library products between April 1 and April 30, 2014, purchased at our web shop or any authorized dealer. A sample library product can be any Vienna Instrument Collection or Bundle, a Vienna Special Edition (Section, Volume, or Bundle) or a Single Instrument.
More information: Vienna Symphonic Library / Free MIRx Offer