Vince Clarke Music has released the IMAGINATOR VCX-378, the second product release in an ongoing series of creative and utilitarian modules for the ever-present Eurorack small-format modular system, designed and built to exacting standards in close collaboration with British 'boutique' analogue synthesiser and accessory designer/manufacturer Analogue Solutions.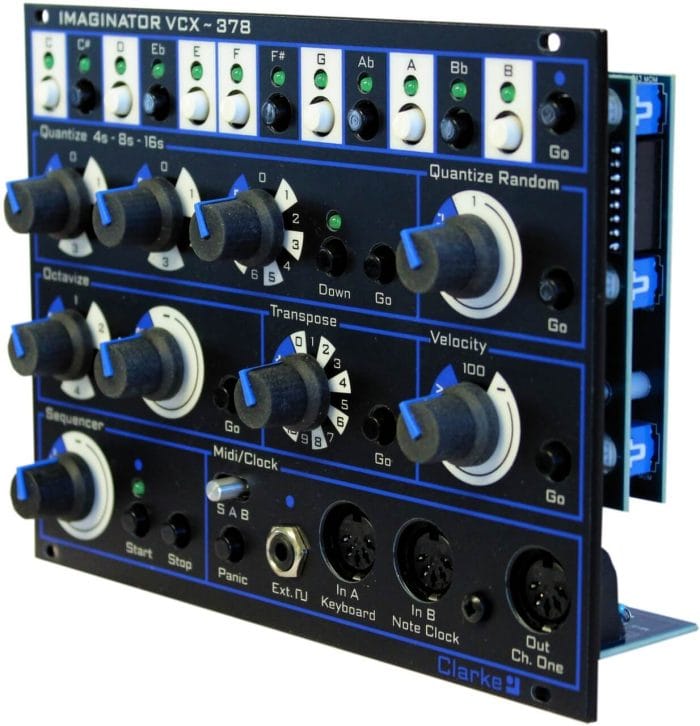 Musical imagination is a wonderful thing. Synthesisers and associated modern-day music technology can help make that happen in wonderful ways. With an amazing number of hit singles and chart-topping albums to his Ivor Novello Award-winning songwriting name and an accompanying hard-earned and hard-working synthesiser collection to die for, synth-pop pioneer Vince Clarke clearly has it all in spades. So just imagine if you could call upon an amazingly musically inspirational device for assistance when seeking that defining elusive musical hook… well, you need not imagine anymore as the IMAGINATOR VCX-378 does just that, fresh from the imaginative musical mind of Vince Clarke! After all, sometimes serious songwriting synth-pop pioneers still need a helping hand (or Eurorack module): "I wanted a practical writing tool that would generate musical patterns based on user-controllable variables."

Vince Clarke got what he wished for… the ingenious IMAGINATOR VCX-378 produces one-bar musical phrases based on either user-control of the Clarke company's clever bespoke musical algorithm or a quasi-random solution. So anyone seeking to trigger their own musical imagination (and MIDI synthesisers) should simply add an IMAGINATOR VCX-378 to their Eurorack small-format modular system setup. The result? Almost unlimited combinations and permutations that will both inspire and amaze as it helps when searching for that defining elusive musical hook.

Housed in a 36 HP-width Eurorack module, the IMAGINATOR VCX-378 has a front facia-located one-octave 'keyboard' — with each 'note' having a push button and associated LED — alongside two Quantize sections, Octavize and Transpose sections, a Velocity treatment, plus internal (Sequencer) and external (Midi/Clock) clocking, as well as a full MIDI interface.

In most cases, users will want to sync to their sequencing software by sending the IMAGINATOR VCX-378 a MIDI note clock. This can be downloaded from the Clarke company website. The IMAGINATOR VCX-378 then references these notes and uses this information to clock the musical patterns it produces. With everything correctly connected, users can use soft synths or send those musically imaginative patterns out to an external synthesiser — something close to Vince Clarke's musical heart.

Helpfully, Vince Clarke himself has taken time out from an always musically successful schedule to prepare some seriously userfriendly tutorials to transport the new IMAGINATOR VCX-378 user from novice to expert in no time. "For full operation of the unit, I suggest you make yourself a nice cup of tea and watch the user video," he says, before later concluding: "Thanks for watching… and now I must get back to my day job."

Jesting aside, while the IMAGINATOR VCX-378 makes for a musically imaginative holiday season gift for the seasoned synth lover in someone's life, note that it will produce inspiring musical phrases well beyond the 12 days of Christmas! Let's hand off here to 'tutor' Vince Clarke to blow our musical minds with some insightful IMAGINATOR VCX-378 note-related number crunching: "With one note there are 16 possible positions within one bar for the note to go. With two notes there are 120 possible positions. With three notes there are 560. This increases and then decreases exponentially. So, if we do the math, we can say that using one to 16 notes there are a possible 65,535 combinations. Remember: we are only talking about one note. Once you start adding pitch to
this equation then the numbers really go through the roof. No wonder there seems to be an unlimited number of one-bar patterns." Perhaps the IMAGINATOR VCX-378 is not just for Christmas, after all?
The IMAGINATOR VCX-378 is available from Analogue Solutions for £349 GBP ex tax and delivery.
More information: Vince Clarke Music