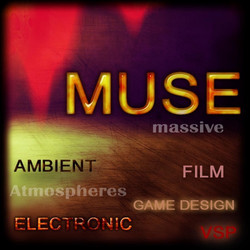 Vintage Synth Pads has announced The Muse, a collection of 80+ presets for the Massive software synthesizer from Native Instruments.
Massive is one of the most powerful soft-synths ever made. It excels at many things, especially atmospheres. With this in mind, we designed this collection of presets for: Ambient Music, Electronic Music, Film/Soundtracks, Game Design, Atmosphere and Pads.

We took full advantage of Massives sonic capabilities when designing these sounds. With plenty of basic sounds available, we decided to pull out all the stops and tread into new territory.

The result is a collection of very sonically visual atmospheres, both organic and industrial.
The Muse is Available to purchase at a the pre-release price of $18.95 USD (25% off regular). The soundset is scheduled for release on August 31st, 2013 (or sooner).
More information: Vintage Synth Pads / The Muse