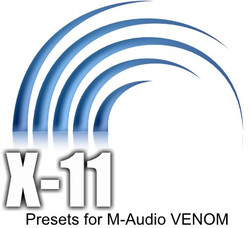 Vintage Synth Pads has released X-11, a new expansion bank for the Venom synthesizer by M-Audio.
This collection was designed to effectively cover some very needed sounds for Venom. After living with Venom for a year now, we wanted to bring out its ability to reproduce vintage analog synths. After all, it shipped with 41 waveforms including several emulating vintage synths. So we made a collection of presets focusing on the "Warmer" side of Venom's capability.

Then we decided to have some fun with Venom's distortion and the more, "edgy" side of Venom. The result is the X-11 solo guitar. This solo instrument rivals the quality of many sampled electric guitars but for a fraction of the price and hard-drive requirements. The results of all this is X-11, 80 new well rounded presets for Venom.
The soundset is available to purchase for $14.95 USD.
More information: Vintage Synth Pads / X-11