VIP Music Software has announced version 1.1 of VIP, the Virtual Instrument Player (VIP) software that enables musicians to catalog, control and map their entire VST instrument library directly from their keyboard.
They have also launched a new website devoted entirely to the operation and use of their software. With this website, users will be able to learn about VIP, access instructional videos, read reviews, get informational updates and more.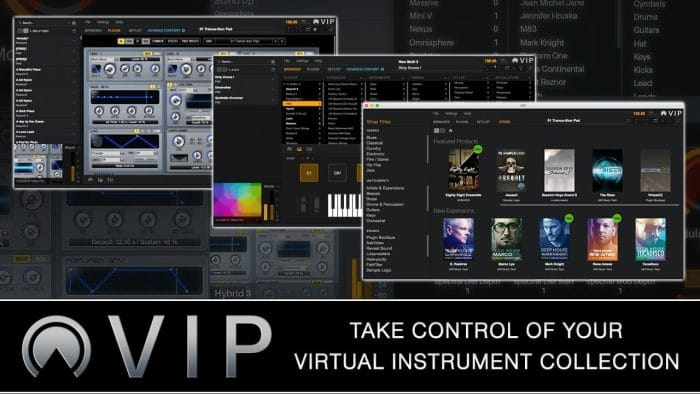 VIP is included as standard equipment on a growing list of important electronic keyboard brands, such as the award-winning Akai Professional Advance 25, 49 and 61 and the Alesis VX49. VIP also works as a stand-alone application or as a VST, AU or AAX plugin for any digital audio workstation.

Keyboards equipped with VIP come with a full-colour, high-resolution 4.3-inch screen. VIP software lets users intuitively access any VSTi virtual instrument in their computer directly from the keyboard.
Using its integrated patch browser, users can quickly filter and search through every single patch in their VSTi plugin library, saving hours for players who need to find a sound quickly or, better yet, just want to search sounds by instrument type, timbre, genre or articulation. After a plugin is selected, VIP auto-maps the keyboard's controls to the selected plugin, giving the user instant performance control over every patch in their library.

In addition to loading and controlling plugins, VIP extends the capabilities beyond what any DAW offers by allowing users to quickly create and play "multis". A "multi" allows users to combine up to 8 patches from 1 or more plugins, with the ability to layer, mix and pan these patches all at once. Users can even set keyboard splits, and transpose individual patches within their "multi." When playing a multi, the hardware pads and controllers become performance controls allowing instant access to solo, mute, pan and mix the multi. Sound designers can use this advanced feature to create new sounds that can be saved and recalled at any point in the future.

VIP software also creates "setlists" that provide quick on-demand access to virtual instruments for live performance. While playing, the player can seamlessly switch to the next patch needed for their set regardless of its plugin—and without ever reaching for the computer.

"I love being able to access and manipulate my virtual instruments right from my keyboard, without ever being distracted by my computer. The entire improvisational/performance process is just so
much more intuitive and seamless," said Jennifer Hruska, Vice-President of Software Development for inMusic Brands. She added, "A keyboard equipped with VIP doesn't slow the artist down—it works with them to maximise their playing experience and enhance their creativity. VIP unlocks your VSTs so they feel like real hardware instruments. Once you experience this software, you will not want to do without it."
Changes in VIP v1.1
New Plugin Maps for Omnisphere 2, East West, Vienna, and even more plugins.
Auto Patch Loading: a preference setting that allows patches to load automatically when scrolling through patches.
Resizable GUI; for larger monitors or viewing large plugin interfaces directly inside VIP.
Output Routing: patches within a multi can now be individually routed to separate audio outputs.
Chords on Pads: the new Pad Learn now allows for the creation and playback of chords on pads.
Multi-Keyboard Support: Musicians with more than one VIP-enabled keyboard can now manage, save and recall multi-keyboard setups in a DAW project.
Multi-core Rendering: Enables users with multi-core processors to achieve enhanced CPU performance.
New Plugin Manager: Gives the user the ability to manage plugins and plugin maps in one place as well as download new plugin maps directly from the cloud.
Auto-tagging on Import: Automatically add one or more tags to patches while manually importing.
More information: VIP Music Software