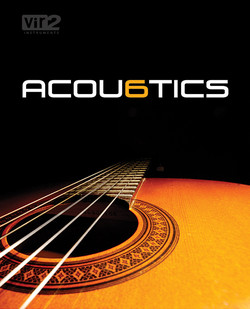 Vir2 Instruments has launched Acou6tics, a Kontakt powered virtual acoustic guitar instrument.
Following in the footsteps of Vir2 Instruments' award-winning Electri6ity electric guitar virtual instrument, Acou6tics applies the same advanced technologies to re-imagine the virtual acoustic guitar.

Vir2 has meticulously recorded six different acoustic instruments: a steel-string guitar, twelve-string, nylon string, ukulele, mandolin, and guitalele, and presents them in astonishing detail. It features both plectrum and finger picking, and Blumlein stereo recordings alongside the piezo pickup perspective.

Thousands of samples across more than a dozen articulations were recorded for each instrument, including sustains, mutes, releases, legatos, hammer-ons and pull-offs, slides, harmonics, and effects. Acou6tics also features virtual room control with adjustable mic distance and sympathetic resonance.
Acou6tics for Kontakt and Kontakt Player costs $399.95 USD.
More information: Vir2 Instruments / Acou6tics