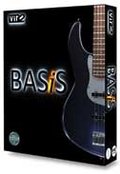 Vir2 Instruments has released BASiS, a virtual bass instrument powered by Kontakt Player 2.
Featuring a comprehensively sampled collection of electric, upright, fretless, and synth basses, BASiS offers incredible attention to detail in the depth and breadth of the basses: 24-bit sampling, DI and amp blending control, multiple velocity layers, seamless humanizing, custom legato and vibrato tools, release layers, harmonics, hammer-ons, pulloffs, slides, slaps, rakes, falls, and more.
BASiS features
Amp/Di Control – Each electric bass includes an Amp/DI balance knob, allowing full blending control between phase-accurate samples of the direct bass signal and an amp'ed recording of the same take.
Realism Engines – A number of custom engines are designed to contribute to the realism of the sound.
Modes And Articulations – An onscreen display gives real-time information on the currently selected articulations, playing mode (polyphonic, monophonic, and legato), and release layers. Varying articulations were recorded for each bass, including long notes, harmonics, mutes, slides, slaps, pulloffs, falls, releases, noises, and more.
Character Vibrato – Full vibrato control, painstakingly modeled after vibrato made by real bass players, is available, including seven different characters of vibrato.
Dynamic Response – An adjustable velocity curve allows for fine-tuning of the dynamic response of the basses.
Effects – A full suite of effects is included in BASiS, including a custom-written Octaver, and full EQ controls.
Remote Control – Every parameter in the onscreen BASiS engine (including its subpages) can be controlled remotely via MIDI continuous controllers (CC's), and can be adjusted in real time.
BASiS is available now for Windows and Mac for $299.95 USD.
Visit Vir2 Instruments for more information and audio & video demos.