VirHarmonic has released Expansion 1, an expanded version of its Bohemian Cello Virtual Performer instrument library.
The expansion delivers more varied types of performance, many new legato types, and mood selection (Improv, Czardas and Emotive) which allows the user to change the behavior of the cellist on the fly.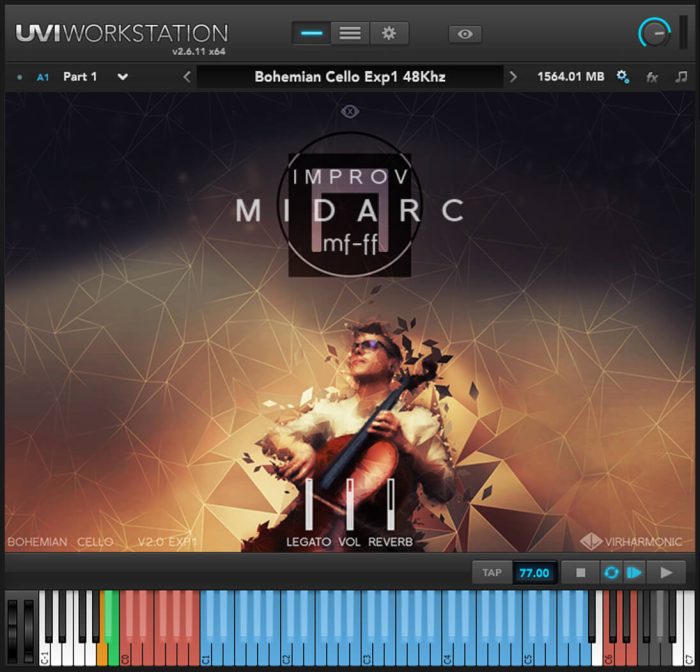 Due to the amount of Legatos, bow types and articulations recorded (35,000+), VirHarmonic have developed a Virtual Performer to handle the articulation, Legatos type and bow selections for the composer as they play. This is designed to allow the composer to concentrate on playing and being inspired in a similar fashion as they would be inspired by working with a real Cellist.

The expanded version comes with a sample pool of 35,000+ on a single microphone position, means that the variety is so complex that VirHarmonic has designed "Moods" – changing complex behavior on the fly with a single key-switch.

For every note they have sampled over 32 variations including the on bow legatos in many dynamics, speeds and expression. Of course this still doesn't account for 3 dynamics of Diminuendos going all the way to p- ppp with 2 round robin repetition and of course their short notes (Staccatos, Spiccatos and Pizzicatos) which have 4 repetitions per bow and per one of the 3 dynamic layers. Their Legato is fluent, with dynamic bowing and bow direction in the same spirit as the rest of the library, so instead of having simple transition cross-fades they have captured the on-bow legato in varied speeds and dynamics as well as expressions. Each of these articulations or moods can be forced on the performer using a assignable force key giving you complete control over the performer should you choose to adjust his behavior.
Expansion 1 for the Bohemian Cello features
Virtual Performer.
22Gb at 96khz-24bit or 4.8Gb at 48khz-16bit Download.
Solo Cello VST, AU, AAX.
35000+ Unique Samples.
Living Dynamics, Multiple True legatos.
Sampled in pristine mid-side stereo.
Powered by free UVI Workstation 2.6.15+.
iLok Dongle not Required.
Bohemian Cello Expansion 1 is available for purchase for 199 EUR ex. VAT where applicable.
More information: VirHarmonic