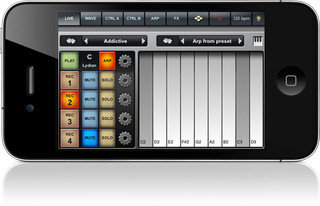 VirSyn has announced version 1.5 of Addictive microSynth, a dynamic wavetable synthesizer app for the iPhone/iPod.
Combines the synthesis power of Addictive Synth with an easy to use 4 track loop phrase recorder.

It was never so easy to create beautiful sounds and driving loops. The unique dynamic wavetable synthesis allows you to explore an unprecedented wide range of sonic territory. From acid loops, crystal clear percussions, realistic human choirs to complex musical soundscapes nothing seems impossible with only a handful parameters to tweak.
Changes in Addictive microSynth
Audiobus support (Input).
Audio background mode.
Support for virtual MIDI input connections.
Support for Korg's Wireless Sync-Start Technology (WIST).
Publish loops and recordings online with the SoundCloud audio platform.
List of loops/recordings with play function.
iOS 7 compatibility.
iPhone 5 graphics.
Metronome on Loop recording.
Many bugfixes.
The Addictive microSynth costs $3.99 USD.
More information: VirSyn / Addictive microSynth