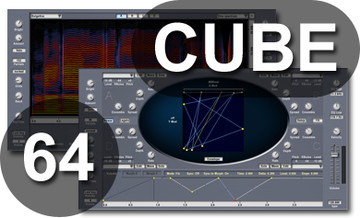 VirSyn has announced the release of a 64-bit AU version of its CUBE resynthesizer instrument.
We are happy to announce the release of a native 64 bit Mac OS X AudioUnit version for the legendary Spectral Morphing Resynthesizer CUBE.

"With Cube, VirSyn brings a whole new approach to additive synthesis. In the past, the shear number of variables necessary to do additive effectively have made it cumbersome and not very practical. Cube's innovative interface and capabilities make it expressive, powerful, and fun to use."

Celebrating the 64 bit release you can also benefit from our winter special offer for most of our products. This is the first release in a series of new 64 bit versions of our instrument line. Expect 64-bit versions of all instruments on Mac and PC in the next months. This will also include VST3 and AAX compatible plugins.
CUBE is available to purchase for 99 EUR during VirSyn's Winter Sale, which ends March 31st, 2014.