VirSyn has announced Harmony Voice, a harmonizer app for iPad/iPhone/iPod touch.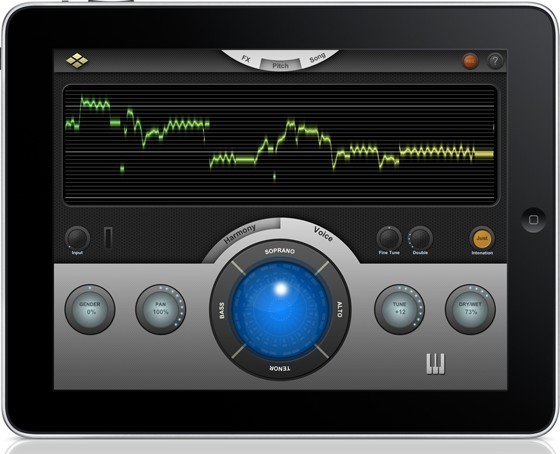 Transform your voice into a choir with up to four voices! Harmony Voice is a pitch shifter and harmonizer with professional features including automatic tuning correction. A realtime visual intonation-display gives you feedback of the tunes you sing.

You can sing and Harmony voice will add up to four voices according to the chords you play with the piano keyboard. Instead of playing the chords yourself you can let Harmony Voice play the chords automatically to enrich the sound of your voice in a musically pleasant way.

The voice character can be adjusted in a way that you can turn a female voice into a male voice and the other way round.
Harmony Voice features
Four part realtime Harmonizer / Pitch corrector.
Different Harmonizer modes:

Manual harmonization by playing chords with up to four notes while singing.
Automatic harmonization ( Kraehenbuehl ).
Play base note and Harmony Voice adds appropriate chords.
Directly play the tunes for up to four voices with the keyboard.

Select key note and scale for harmonization and pitch correction.
Harmonies can be in just ( Barbershop ) or tempered tuning.
Mix your original voice with the harmonized parts.
Change the voice character.
Play background track from your iTunes library.
Hi-end reverb effect for room simulation.
Chorus and Delay effect.
Use a CoreMIDI compatible Interface* to control Harmony Voice with a MIDI Keyboard.
Audio recorder with Metronome.
Upload to SoundCloud and File Export.
Audio pasteboard for exchange with other Apps.
The Harmony Voice app costs $5.99 USD.
More information: VirSyn / Harmony Voice