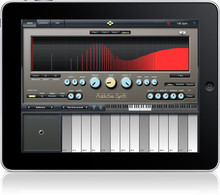 VirSyn has updated its Addictive Synth for iPad virtual synthesizer app.
It was never so easy to create beautiful sounds and driving loops. The unique dynamic wavetable synthesis allows you to explore an unprecedented wide range of sonic territory. From acid loops, crystal clear percussions, realistic human choirs to complex musical sound scapes nothing seems impossible with only a handful parameters to tweak.

Together with the intelligent randomizer for both sounds and arpeggios you will loose any sense of time and space while exploring unknown sonic territories. Right from the beginning you'll understand why it's named Addictive.
Changes in Addictive Synth v1.1
Line 6 MIDI mobilizer compatible.
Many new scales, scale base note added.
New keyboard for scale optimized playing.
On-screen keyboard now velocity sensitive.
Many bugfixes.
Addictive Synth for iPad is available to purchase for $9.99 USD.
More information: VirSyn / Addictive Synth for iPad