VirSyn has released version 3.0 of Harmony Voice, a harmonizer app for iOS, and version 1.3 of AudioReverb, a studio quality reverb for Audiobus and your iTunes music library.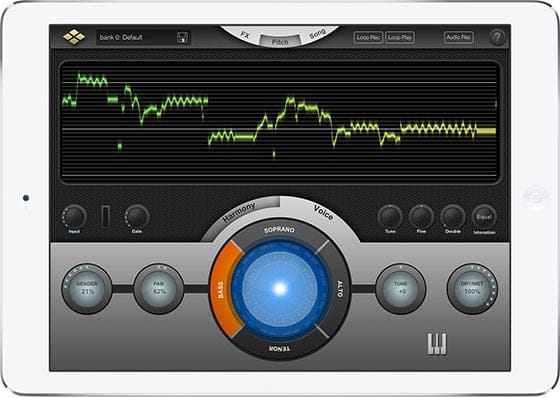 Harmony Voice is a pitch shifter and harmonizer with professional features including automatic tuning correction. A realtime visual intonation-display gives you feedback of the tunes you sing.

You can sing and Harmony voice will add up to four voices according to the chords you play with the piano keyboard. Instead of playing the chords yourself you can let Harmony Voice play the chords automatically to enrich the sound of your voice in a musically pleasant way.
The voice character can be adjusted in a way that you can turn a female voice into a male voice and the other way round.
Changes in Harmony Voice 3.0
Fixed Harmony mode added.
Individual level/pan/pitch/gender settings for all 4 voices.
Preset management with factory and user presets.
Bluetooth support.
Background audio support.
Loop input recorder.
Harmony Voice is available for purchase from the Apple App Store for $4.99 USD.
AudioReverb is an algorithmic reverberation app which combines the flexibility of vintage algorithmic reverbs with the sonic quality of convolution based reverbs.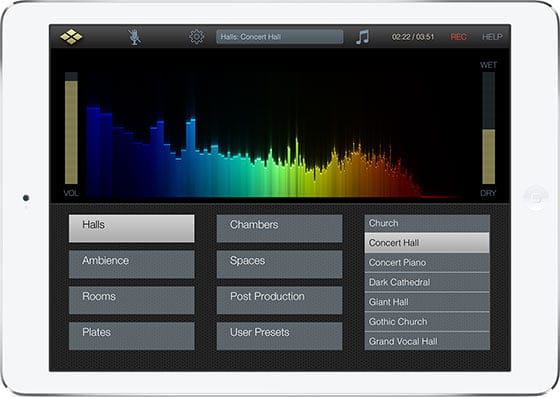 The creation of high quality reverb needs a realistic simulation of the important early reflections together with a smooth and colorless reverberation tail.

The early reflections are the most important clue for the human ear to get a feeling about the dimension and character of a room. Most algorithmic reverbs offer a number of different algorithms to simulate different natural rooms like chamber, halls or artificial ones like plates. AudioReverb uses impulse responses from real acoustic spaces and classical reverb algorithms to emulate their acoustical properties.

The resulting reverberation sets new standards in clarity and sense of space! Use AudioReverb for enhancing your listening experience with your favourite iTunes songs. Use AudioReverb as professional reverb plugin to improve the quality of any Audiobus compatible App.
Changes in AudioReverb v1.3
Open audio files using Apple's Document interchange.
Bluetooth audio support.
Mail your recordings to friends.
Bug fixes.
AudioReverb is available for purchase for $7.99 USD.
More information: VirSyn