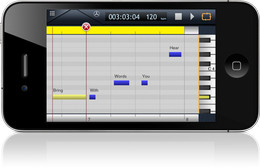 VirSyn has released version 1.4 of iVoxel, the Singing Vocoder for iPhone/iPad.
iVoxel is not only an amazingly sounding vocoder for iPhone/iPod and iPad – the unique concept of iVoxel turns this vocoder into a singing machine going far beyond the capabilities of traditional and software vocoders on any platform.
Changes in iVoxel app v1.4
Use any CoreMIDI compatible MIDI keyboard with the iPad version.
The level of each filter band can be individually adjusted.
Quantize pitch function for onscreen keyboard play.
New Delay effect mode "Cross" allows for stereo bouncing.
Polyphonic play retriggers voxel.
Improved stability on Sequence editings.
Hanging notes on sequencer stop fixed.
About screen iPhone 4 fixed.
The iVoxel app for iOS is available to purchase for $11.99 USD.