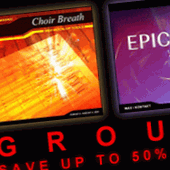 Virtuasonic has announced an "All Sample Libraries" Group Buy which will result in a 50% discount off the list price of their products, if there are more than 100 Buyers before it ends on FEBRUARY 28, 2011.
What is a Group Buy? A Group Buy is when a group of individual buyers join together to purchase the Group Buy products in bulk, thereby reducing the price of the products based on the number purchased by the group during the group buy period. If the maximum discount is reached for the "All Virtuasonic Sample Libraries" Group Buy each person will pay only 50% of the retail price!
The bundles available in All Sample Libraries Group Buy feature the following products: Epic FX, Synaesthesis Impulse Responses, Noise at the Concert, Choir Breath, and Tingsha.
Visit Virtuasonic for more information.