Waves Audio has announced the release of its new audio plugin that lets you manipulate your vocal in real time for the most popular sounds in Hip Hop, Pop, R&B and electronic genres.
Vocal Bender features zero latency and two simple pitch and formant controls so you can easily track, mix and perform hit-sounding vocals instantly.
Vocal Bender is the fastest and simplest way to getting "that sound." Yes, you know the sound. Travis Scott's deep-voiced ad-libs. Billie Eilish's other-worldly vocal doubles. Frank Ocean's pitch- and formant-shifted lead vocals. The high-pitched vocal topline in every EDM drop. Vocal Bender will quickly twist your vocals for the sounds of modern pop, hip hop, R&B, electronic and many other genres.
The plugin also includes extra modulation features for even crazier effects: vibrato, pitch drops, sequences pitching, and much more, all with a few simple knobs.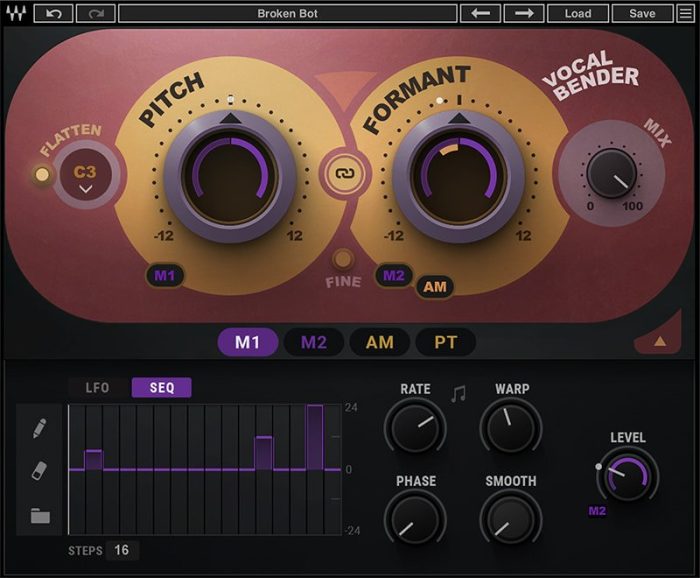 With Vocal Bender you can make your vocals move between genders, change age, sound miniature or appear gigantic. On the subtle side, simply add soft harmonies, vibrato and vocal doubling for thickness.
Vocal Bender features
Real-time monophonic voice manipulation plugin.
Easy vocal pitch shifting and formant control.
Zero latency for studio recording and live performance.
The most popular vocal sounds in hip hop, pop, EDM, R&B.
LFO, SEQ, Amplitude and Pitch modulators for deeper musical effects: Vibrato, pitch drops, sequenced pitching, more.
'Flatten' feature for robotic vocals.
Mix knob for blending harmonies and doubles on inserts.
The plugin is on sale for $34.99 USD with coupon code CREATE40 at the checkout.
More information: Waves Audio