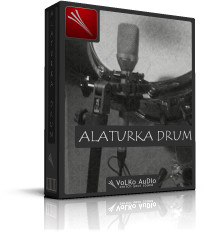 Volko Audio has updated its Volko Alaturka Drum virtual drum instrument to version 1.2.
Volko Alaturka Drum adds new colours to your music by bringing the rhythms of Middle East, North Africa, Arabia and Anatolia. Just select the rhythm you would like and push the "play" button.
Changes in Volko Alaturka Drum v1.2
New mix set has been added: Sound quality is improved. Natural sounds have been cleaned, phase problems fixed and mixed again. Processed sounds have been renewed and now it is very different than Natural ones. Reverb sounds also has been changed.
New memory management system: Now VAD supports more efficient memory management system. It supports piecewise loading which is faster than the older version.
Faster loading (Windows): In Windows the loading time is reduced more than the older version.
Faster pass between kits: When you change kits in VAD now it will be faster.
Velocity ranges have been changed.
MIDI files have been updated for new mix set.
Memory usage indicator flashing while loading feature has been added.
Default parameter has been changed: Now Variations and Fills parameter is selected to be 15 as default.
GarageBand Drag&Drop bug has been fixed.
AU parameter compare problem has been fixed.
AU saved kit selection problem has been fixed.
Non-GUI parameter update crash problem has been fixed.
The Volko Alaturka Drum is available to purchase for $119 USD. A discounted commercial license is available for $39 USD.
More information: Volko Audio