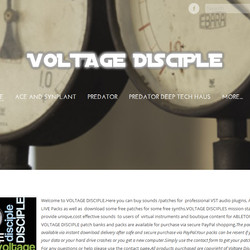 Voltage Disciple has announced the release of a new free Ableton Live pack.
It contains the TR 727 /TR 626 /TR 505/ Drum racks as well as the Volca Drum rack. Each drum sound in the four drum racks contain individual controls, plus macro controls for NY type compression.

These Drum racks are an accurate representation of the originals but provide extra controls on each sound. No fuss straight up instruments.

If you like our free stuff give us a like on our Facebook page or pick up one of our sound banks and at the moment you could win a LIVID Block Midi Controller…
The download is available at no charge.
More information: Voltage Disciple