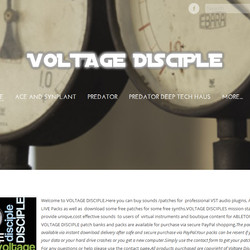 Voltage Disciple has announced the release of Voltage Maths, a collection of solid drum and percussion samples.
These sounds have been made here at Voltage Disciple using the MAKE NOISE STO Oscillator The PITTSBURGH MODULAR LOW PASS GATE and the MAKE NOISE MATHS MODULE.

Grab some earth shaking 24 bit analogue kicks and percussion hits. Simply download and unzip the VOLTAGE MATHS Zip file.

If you like our free stuff pick up one of our paid sound banks and at the moment you could win a LIVID Block Midi Controller… Enjoy
The sample pack is a free download from Voltage Disciple.
More information: Voltage Disciple