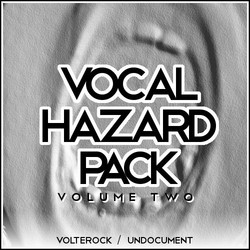 Volterock & undocument have launched Vocal Hazard Pack Volume 2, a free vocal sample pack featuring 748 vocal samples.
Almost a year ago Volterock & undocument ventured into the studio to do the unthinkable: CAPTURE THE HAZARDOUS WAILS OF HUMANITY! They crawled out of the studio shaking and whimpering with Volume I in hand. Smiles were formed, much love was received, and so we braced ourselves, with full armor covered in hazmats, and entered the studio once again for… duh duh duh duuuuh… VOLUME II !!

This new volume has over 4 times as many samples as volume I! 748 vocal samples in all! We also asked the new volunteer talent to venture out and really get creative beyond the regular screams and yells. I even brought in my long-time bff, Chris Williams, to do his famous NAZGUL SCREAM! ENJOY!
The pack is a free download at Volterock's SoundCloud page.
More information: Vocal Hazard Pack Volume 2