VotanDSP has announced the release of version 2.0 of Votan Telepathy, a telepathically integrated synthesis suite for iPad, iPhone & OS X Audio Unit, offering a perfect blend of traditional algorithms and cutting edge integration.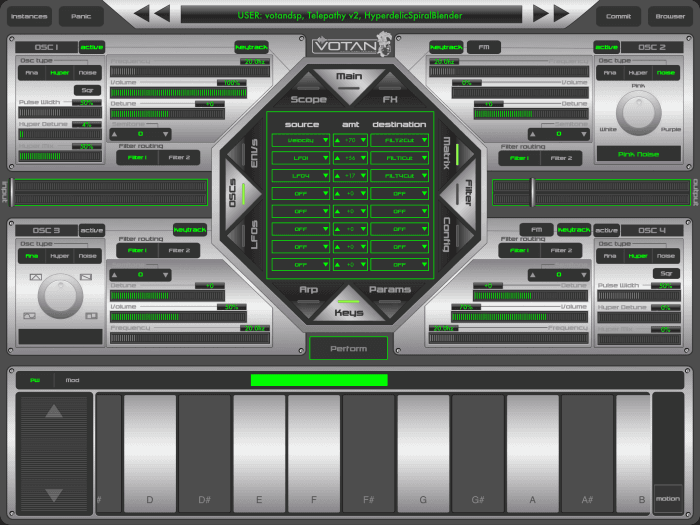 Votan Telepathy is a powerful synthesis engine built on top of The Votan Platform. It is available as an iOS (iPhone/iPad) app and also as an 32/64 bit Audio Unit. Users can experience Telepathy with either of these platforms alone, but when they are used together is when the real magic happens.

Telepathy iOS and Telepathy AU (Audio Unit) are seamlessly linked via The Votan Platform Cloud and Control features, offering near zero latency control over an infinite series of Telepathy AU instances direct from the iPad touch screen. Users can create new a sound on iOS that instantly integrates into their DAW session.

A perfect blend of traditional algorithms and cutting edge integration Votan Telepathy has a subtractive synthesis engine containing quad arrays (4x) of Oscillators, Filters, LFO's, Envelopes, and FX Blocks. These sound shaping modules are built around an 8 Slot Modulation Matrix which routes the modulators to any Telepathy Synth or FX parameter destination. Of particular delight is the free flowing nature of the Oscillator section. It unlocks the normally static oscillator frequency parameter from standard MIDI key tracking. When users switch off the Amp Envelope they have free playing waveforms at their fingertips which combined with the dual oscillator FM, offer some serious dimensions in audio rate wave modulations normally only seen on modular analogue synthesisers.

Telepathy is joy to use, be it on the way to work or whilst professionally constructing the tracks in the users favourite studio DAW. Telepathy will fill the gaps between. Everything the users build on iOS will telepathically appear in their DAW session ready to rock the next tune.
Changes in Votan Telepathy v2.0
Hyper Oscillators.
Noise Oscillators.
Extra Filter Types.
Refined Modulation Matrix now with 8 slots, new destinations to all synth/fx parameters.
New FX Types – FrequencyShifter, Reverb, Flange, Destroy, Buffer Glitch.
New Delay Types.
New Perform Assign.
iPhone Version.
Votan Telepathy v2.0 for iPad and iPhone are available at a 25% discount until January 1st, 2016. The AudioUnit version is 50% off during the sale.
More information: VotanDSP