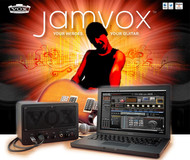 VOX has released version 1.5 of JamVOX, a software solution for guitarists.
JamVOX is the amazing Jam and Practice Tool for Guitar. The simple-to-use package uses a robust monitor speaker (dual 3″ drivers) that is also a USB plug-and-play audio interface, and that includes easy-to-use software for Mac or PC computers.

The revolutionary GXT (Guitar XTracktion) function removes the guitar from any audio recording, so that you can play along; or isolates the guitar part so that you can loop it, slow it down, and learn it with ease! Featuring our distinctive VOX modeling – 19 coveted amps and 54 in-demand effect pedals – JamVOX lets you design your dream rig and create nearly any guitar sound. JamVOX also works with vocals, and even features an XLR mic input.
Changes in JamVOX v1.5
The GXT (Guitar XTracktion) algorithm has been greatly enhanced, and a new Easy Edit panel has been added. The Easy Edit controls make it simple to quickly remove (or isolate) the specific target sound.
The Tempo and Pitch Change functions have also been greatly enhanced. The high-definition algorithm "zplane élastique efficient V2″ has been integrated into these functions. This improvement allows you to clearly catch individual notes with nuances during a very fast passage, even when played at half tempo.
Added three types of superb High-Definition Reverbs to the FX section. The parameters have been optimized for electric guitar, so that you can achieve great sounding reverbs settings with ease.

HD-HALL: Simulates the early reflections and reverberation of a concert hall with the highest accuracy. This setting provides the feeling of being on stage in a concert hall.
HD-CHAMBER: Simulates the sonic characteristics of a large chamber. By experimenting with the parameter settings, you can achieve not only natural-sounding spatial simulations, but also wacky-sounding reverbs as well.
HD-ROOM: Provides a high-quality simulation of room reverb. This is a more confined, intimate reverb simulation, and can be refined by editing the parameters.
JamVOX Version 1.5 is now available free to all JamVOX users, via either the auto-update function of the JamVOX software, or by downloading directly from www.jamvox-online.com.