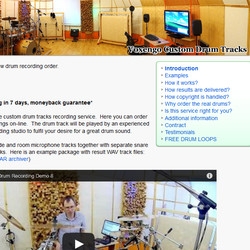 Voxengo announced that its custom drum recording service will be retiring soon.
As we are planning to put our Voxengo recording studio room to a more profitable use and thus stop accepting drum recording orders, we decided to offer anyone the last chance to get a professional drum recording performed by Max Sivkov at a greatly reduced price – US$39.95 only.

This offer will be effective for 2 weeks starting today.
The service will become inactive in March, 2014.
More information: Voxengo / Custom drum recording