Plugin Boutique has launched a sale on Elephant by Voxengo, a mastering limiter plugin that aims to make your mixes loud and proud, adding a brilliant finishing touch.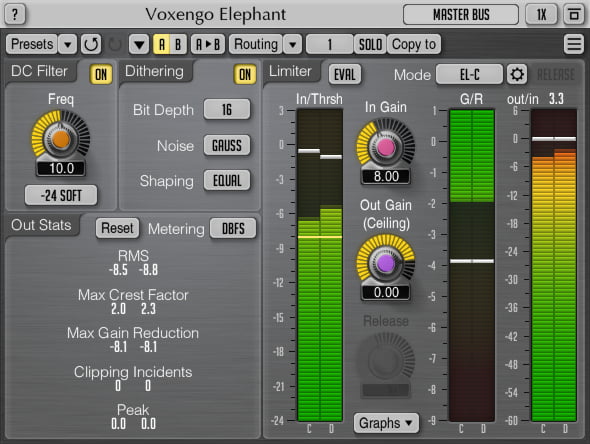 The most remarkable feature of this signal limiter is its sonic transparency. Elephant brings sound limiting and loudness maximization without audible "pumping" sonic artifacts.

Elephant is a highly competitive plug-in for mastering applications: it features a variety of limiter modes that can be deeply customized, and a comprehensive set of level metering tools, including headroom estimation and K-system metering. Elephant's built-in linear-phase oversampling is an important element in achieving high-quality peak limiting and loudness maximization.

Elephant limiter can be used for mixing and mastering of both stereo and multi-channel music and sound material, at any standard sample rate. Limiting process can be visualized both as gain reduction meter and real-time graph.

Elephant, also featuring a DC offset filter, and a high-quality bit-depth converter with an optional noise-shaping, allows you to finish your music and audio productions with a spark.
Elephant is available for Windows and Mac (VST/AU), priced at $95 USD until October 1st, 2018 (regular $119.95 USD).
More information: Voxengo Elephant