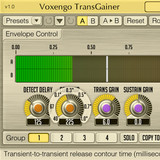 Voxengo has announced the release of TransGainer, an audio plug-in suitable for a wide range of professional music production uses.
TransGainer implements audio signal envelope adjustment algorithm that reacts on transients rather than on signal's loudness level. This algorithm allows you to adjust volume of attack and sustain stages of any sounds you use it on. TransGainer was designed in a way to be suitable for all possible sound sources – be it individual tracks or full mixes.

In many cases TransGainer can be used in place of gate and expander plug-ins while delivering a better sound and offering an easier control. Beside that TransGainer can be used for audio recording restoration/re-mastering purposes and reverb tail modifications with excellent results.

TransGainer allows you to specify gain adjustments for sound's transient and sustain stages separately. You can also choose an expected average time between transients so that algorithm delivers you the most precise results possible. With the help of TransGainer you can pass the border from good to excellent audio recordings.
TransGainer features
Transient stage loudness adjustments
Sustain stage loudness adjustments
Transient-to-transient time control
Multi-channel processing
Internal channel routing
Channel grouping
Mid/side processing
Up to 8x oversampling
64-bit floating point processing
Preset manager
Undo/redo history
A/B comparisons
Contextual hint messages
TransGainer is available for Windows and Mac (VST/AU) for the one-month introductory price of $59.95 USD (15% off the regular price). A demo version of TransGainer can be downloaded freely at the Voxengo web site.
More information: Voxengo / TransGainer