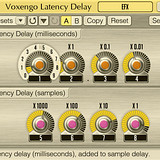 Voxengo has updated a number of its freeware effect plug-ins.
While Voxengo Overtone GEQ and Voxengo Sound Delay plug-ins received several minor fixes, other plug-ins in this set were upgraded to their next major version, with a lot of additions over the previous version: multi-platform support, undo/redo function, preset manager, user interface coloration, user interface re-scaling, plug-in instance naming, bypass switch.
Updated free plug-ins
These plug-ins are available as freeware for Windows and Mac (VST/AU).
More information: Voxengo