Voxengo has released version 3.7 of CurveEQ, a spline equalizer plugin for Windows and Mac.
CurveEQ shows you the actual filter response you are designing by means of a spline (a smooth curvy line) plus it shows the spectrum, so you can readily see what the EQ is doing with the sound. This, in turn, allows you to get the best from your mix and your tracks. CurveEQ perfectly suits the needs of mastering.

CurveEQ implements spectrum matching technology that allows you to transfer spectrum's shape of one recording to another. In other words, this allows you to "copy" frequency balance of existing time-proven mixes so that other mixes that are still in the works may have a chance to sound better. This technology also greatly helps in music mastering since using it allows you to easily lessen any dramatic differences in the area of frequency balance between various tracks.
Changes in CurveEQ v3.7
Added Retina support on macOS, and automatic high-resolution UI size adjustment on Windows.
Fixed issue with "Spectrum Offset" display modes.
Added "anti-aliasing" spectrum display mode.
Regularly $79.95 USD, CurveEQ is currently on sale at Plugin Boutique for $55.96 USD.
Also updated is LF Max Punch, a professional audio effect plugin for music and sounds where low-frequency thump and punch are most welcome, and where distortion is applied specifically to bring the bass sound to life.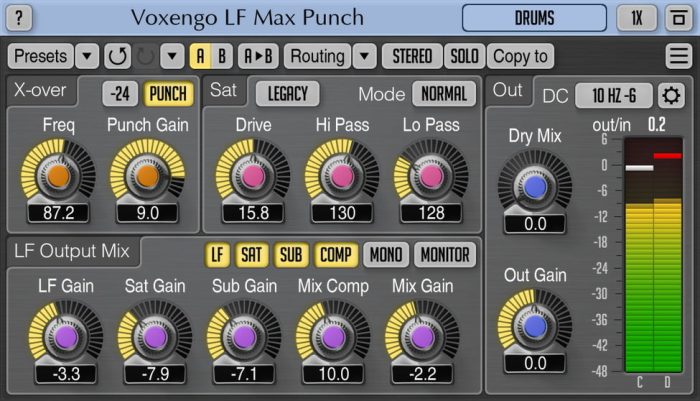 LF Max Punch plugin dynamically emphasizes selected bass frequency band, applies a smooth saturation over it, and produces additional sub-harmonic content, with the ability to blend it with the original bass band sound. Optional compression can then be applied to the resulting low-frequency sound. LF Max Punch first splits the broad-band signal into low- and high-frequency bands and then applies the aforementioned effects to the lower band only.

This effect can be applied over a wide range of sound material: drum tracks, bass tracks, contemporary music mixes: rap, trance, club music; also rock music can benefit from LF Max Punch's low-frequency enhancements.
Changes in LF Max Punch v1.8
Added Retina support on macOS, and automatic high-resolution UI size adjustment on Windows.
35% lower CPU usage on AVX2-capable processors (in 64-bit mode).
LF Max Punch is on sale for $48.96 USD until May 31st, 2019 (regular $69.95 USD).
Both plugins are available for Windows and Mac in VST/VST3, AU and AAX formats.
More information: Voxengo