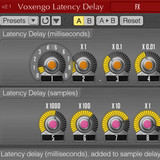 Voxengo has released version 2.1 of Latency Delay, an auxiliary plug-in which allows you to compensate latency produced by any audio plug-ins, instruments and processes which produce latency but do not try to report it to the host.
Latency Delay introduces 10000 samples latency itself and delays the audio signal by 10000 minus the specified amount of samples or milliseconds. Please note that host audio application should support the latency compensation itself for this plug-in to function properly.
Changes in Latency Delay v2.1
"Radial" knob mode can be now disabled completely.
"Off-Line Render" indication added.
Knob read-outs now require a single click for keyboard entry.
Occasional crashes in WaveLab and other hosts fixed.
Host sample rate switch-related problem fixed.
Minor visual improvements implemented.
Plug-in initial loading time reduced.
The "VST Function Sync" global switch was added that fixes crashes in some hosts (i.e. Tracktion).
Parameter automation on AU Mac OS X now shows real parameter values.
Preset "update" function implemented in the preset manager.
The "No Multi-Channel Operation" global switch was added that fixes incompatibility with some non-VST2.3 compliant VST hosts.
Latency Delay is available to download as a freeware plug-in for Windows and Mac (VST/AU).
More information: Voxengo / Latency Delay