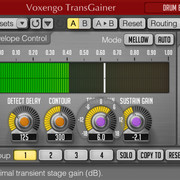 Voxengo has updated its TransGainer effect plug-in for Windows and Mac to version 1.2.
TransGainer allows you to specify gain adjustments for a sound's transient and sustain stages separately. You can also choose an expected average time between transients so that algorithm delivers you the most precise results possible. With the help of TransGainer you can pass the border from good to excellent audio recordings.
Changes in TransGainer v1.2
A problem with the Global Settings sliders missing fixed.
Side-chain routing presets now appear dimmed to reduce confusion.
Parameter automation on AU Mac OS X now shows real parameter values.
The "VST Function Sync" global switch was added that fixes crashes in some hosts (i.e. Tracktion).
Preset "update" function implemented in the preset manager.
"Density mode" implemented in level meters.
The "No Multi-Channel Operation" global switch was added that fixes incompatibility with some non-VST2.3 compliant VST hosts.
The "Show All Channel Meters" routing switch added.
Additional visual look variation settings added.
TransGainer for Windows and Mac (VST/AU) is available to purchase for $69.95 USD.
More information: Voxengo / TransGainer