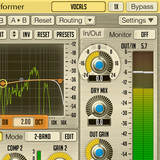 Voxengo has released version 2.3 of Voxformer, a multi-functional vocal channel strip plug-in for Windows and Mac.
Combining several professional quality processing modules, Voxformer was designed to be a comprehensive solution for all your vocal processing needs – be it spoken or sung vocals. In most cases Voxformer can be used for processing of a wide range of instruments beside vocals.
Voxengo Voxformer v2.3
The "RT Max" spectrum analysis option added.
Spectrum's precision does not depend on the oversampling level now.
Side-chain routing presets now appear hidden to reduce confusion.
Parameter automation on AU Mac OS X now shows real parameter values.
Preset "update" function implemented in the preset manager.
Selected filter's curve is now always shown, not only when hovered.
Control points can now be clicked to disable/enable the filter.
The "VST Function Sync" global switch was added that fixes crashes in some hosts (i.e. Tracktion).
Control surface readout now displays musical note.
"Density mode" implemented in the output level meter.
Voxformer is available to purchase as an effect plug-in for PC and Mac (VST/AU), priced at $59.45 (includes 15% Winter Holidays discount).