Vienna Symphonic Library has announced the release of the Yamaha CFX, a virtual piano instrument that features the sounds of a beautiful hand-crafted, full size 275 cm (9') concert grand that represents the pinnacle of the manufacturer's tradition of piano crafting.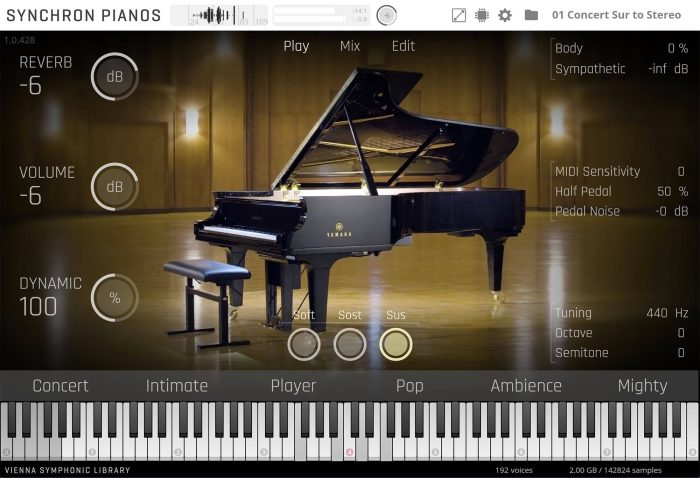 For the first time, this beautiful Yamaha CFX concert grand was captured with multiple high-end microphone arrays at our refurbished recording facility Synchron Stage Vienna, which is characterized by its particularly warm, pristine and natural ambience. With up to 4,200 samples per key, this new Synchron Series instrument offers 100% timbral authenticity, liveliness and a hyper-realistic playing feel.

What's more, the instrument comes with an all-new, high-performance Synchron Pianos playback software, incorporating our proprietary "Advanced Release Sample Technology" that automatically matches up to 300 individual and finely grained release samples per key to your played notes. The new player's mixing window lets you easily create your own sound and ambience, but you can also call-up pre-configured and expertly-made presets (Concert, Intimate, Player, Pop, Ambience, Mighty).
Yamaha CFX features
Up to 4,200 samples per key for maximal authenticity and liveliness.
100% natural ambience of one of the best recording halls in the world, Synchron Stage Vienna.
Hyper-realistic playing feel.
Advanced Release Sample Technology.
Multiple Microphone Positions – for a multitude of timbral variations.
All-new, intuitive Synchron Pianos software with high-performance playback engine.
Six pre-configured Presets: "Concert", "Intimate", "Player", "Pop", "Ambience", "Mighty".
Soft (una corda), sostenuto, sustain pedals.
Half-pedalling and re-pedalling.
Sympathetic resonance.
Body resonance.
The Yamaha CFX for Windows and Mac (VST/AU/AAX) is available for the intro price of 185 EUR (Standard) / 350 EUR (Full) through May 31st, 2018.
During the sale you can also purchase the Synchron Package (Synchron Strings I, Synchron Percussion I, and Yamaha CFX) at an introductory price.
More information: Vienna Symphonic Libary