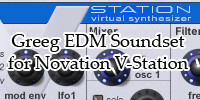 VST Cafe has announced the release of the Greeg EDM Soundset, a collection of presets for the V-Station synthesizer plug-in by Novation.
Well, it's finally here – my latest soundbank for Novation V-Station: "Greeg EDM Soundset". At the beginning, I wanted to just review my old, very small V-Station soundbank, but then I realised that I learnt some new tricks :) As a result, I picked few sounds from the old bank and created completely new soundbank suited mainly for Electronic Dance Music.
The Greeg EDM Soundset includes 76 presets (leads, pads and basses) both in fxb and mid format. The soundset is available as donationware.
A Tiny Version pack of 16 presets is available to download free of cost.