VSTzOne has announced the release of Arx One, an audio plugin for Windows designed to help with phase correlation problems on individual instruments or even on the whole mix.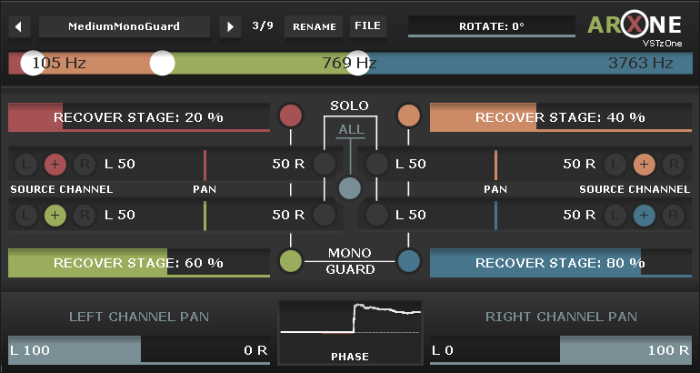 The plugin lets you split the audio signal into four frequency bands that can be adjusted individually. You can adjust panning for each split and choose the source channel to use for output, which also allows you to create stereo from a mono source.
There are a lot of problems regarding phase correlation in mixing especially when layering different sounds that can cause problems so as result they may cancel each other. But what if you even do not start any layering or mixing different instrument and you just placed and played one instrument and yet there are already phasing issues especially with ensembles. Many developers do not fix they samples or they want to trick your wallet by that huge & wide sound. No matter what is the reason behind you want to fix it somehow.
Arx One features
4 adjustable frequency bands.
Left, Right or Stereo for input for each band.
Solo preview for each band.
Rotate audio.
Dual master pan, left and right channel can be panned individually.
Dual master do not pan low frequencies, so no matter what your bass will be always mono.
Bypass processing for comparing with original sound (push X on ARX logo).
Phase trace to preview phase correlation in time.
Arx One is available as a free download in 64-bit VST/VST3 plugin format for Windows.
More information: VSTzOne