W.A. Production is following up its recent SphereDelay with the release of a new audio effect plugin that aims to offer the perfect way to approach and achieve proper compression.
The dual–mode SphereComp compressor plugin comes with peak compression and RMS compression.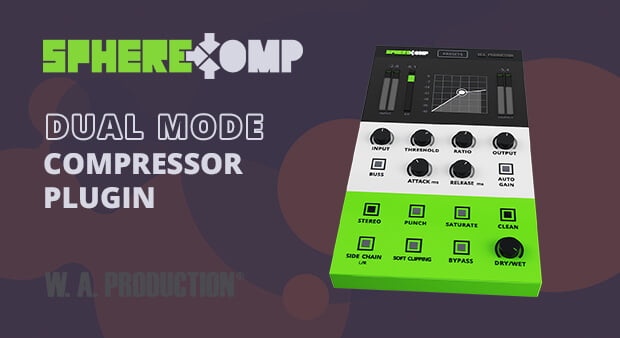 All producers know compression can either be an award-winning tool if used properly, or it can totally destroy your mix. Audio students are introduced to compression and most are left confused or scared to death of it.

SphereComp is capable of catering to the seasoned pro and the beginner. To get the same results you get with SphereComp you would have to spend thousands of dollars in high-end rack gear, invest time getting acquainted, making adjustments over and over until you get the result you want. Not to mention installation and routing your patch bay. Breathe a sigh of relief. Don't dread compression. Embrace it.

If you route your drum tracks (or any other group of tracks) into a group track, you are able to compress this group as a whole. Tying or "gluing" the individual elements to perform as one. The Buss mode is designed especially for that, It reacts to the RMS (root mean square) or the average of the signal, creating a smooth and musical compression. Regular mode reacts to the peaks of the signal, with it, you are able to dynamically shape the individual tracks.

Keep in mind that some individual tracks will benefit much more from RMS compression and some groups or mixes will benefit more from peak compression, so experiment and see what works best for your track.
SphereComp (VST/AU/AAX) is available at an exclusive introductory 80% discount from Plugin Boutique, priced at £8.95 GBP / $12 USD until July 2nd, 2018.
More information: W.A. Production SphereComp