Plugin Boutique has announced an exclusive sale on the new SphereDelay multi-mode delay effect plugin by W.A Production.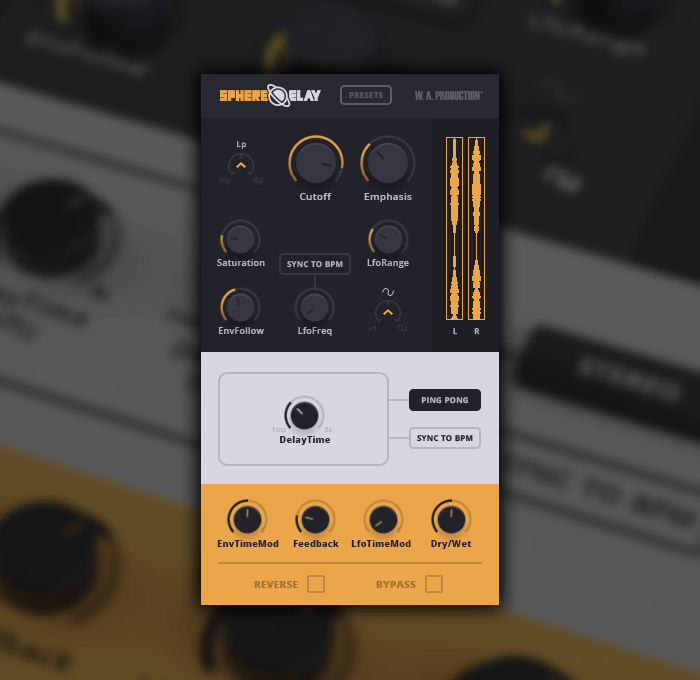 SphereDelay comes with a variety of effect modules (filter, saturation, 4 delay modes, envelope follower, LFO, etc.) that tie together to create amazing delay effects that will really spice up your instruments and will give new depth and dimensions to your mix.
SphereDelay comes with an extremely sleek design with an interface that really pops out and makes navigation easy and fast. The idea behind SphereDelay was to allow users to really get into customizing their Delay effects. We understand Delay can be an important part of a track in certain parts, or in general as an effect. So, we felt like creating a Plugin like SphereDelay was a big move in the Effect Plugins world. Allowing for this amount of personal customization in an effect like Delay can allow its users to create a game-changing track with a personalized and amazing sound.

We strived to make SphereDelay appeal to all levels of producers. We know how picky Professional Producers can be when it comes to finding plugins and sticking to them. A lot of the time you see Pros using the same things because it is a sound they know and their fans recognize and love. However, we know and have the confidence that we can change the minds of the Professionals and bring them to our side when they get their hands on SphereDelay. They will be in love with the fact that they can use the sound that they loved to begin with, as well as create amazing variations of that Delay and many other amazing effects.
SphereDelay for Windows and Mac (VST/AU/AAX) is on sale at Plugin Boutique for the introductory price of £6.95 GBP until Arpil 2nd, 2018.
More information: W.A Production SphereDelay