W.A Production has released The King, a new compressor effect plugin that aims to bring your tracks to life.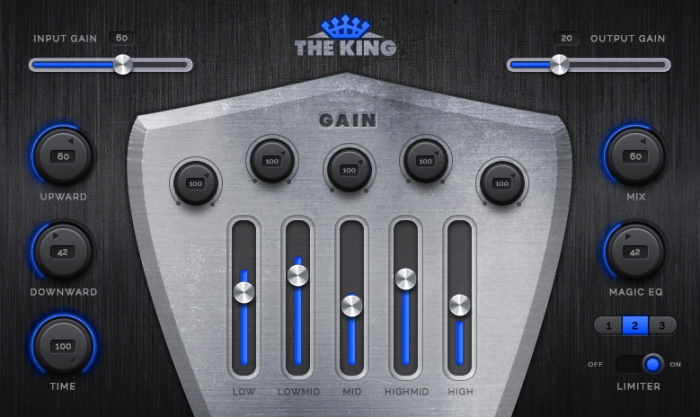 The King is a versatile compressor that can be used on your master channel, as well as individual audio tracks or MIDI instruments.
The King has the ability to give the users control over 5 bands (Low, Low Mid, Mid, High Mid and High) and with this access allows the user to perfect the sound of each frequency group. Increase the individual band Threshold, increase or decrease the individual band Make Up Gain, fix the Input / Output Gain to your liking, add a limiter and so much more!

The King was developed to create ease for the everyday producer and DJ. Designed and Developed by the powerful team of W. A. Production, The King is by far the most complex, clean and versatile multi-band compression plug-in to every hit the market. Using this plug in on your master will bring an entire new light to your mix. Allowing the individual frequencies to fill where they are supposed to. The idea with adding all of these amazing features to this plug-in was an idea we believe will help everyone.

EQ'ing is a very important part of producing, and though the Magic EQ is not meant to be the sole EQ of your entire mix or instrument, it does a fantastic job of cleaning out any mud in the spectrum prior to post EQ'ing the instrument later on in the production. Being able to run the entire effect through a Limiter eliminates any frequency mesh that may cause clipping.

The Limiter keeping the track at 0db removes the need for another third party Limiting plug-in, unless there is still a need for another limiter for other production techniques. This plug-in is an absolute beast, and we believe it will be the last multi-band compression plug-in any producer will need to invest in!
The King comes with 3 audio courses and 7 video tutorials, as well as a large amount of bonus content, including samples, MIDI files, presets and DAW templates.
The King (VST/AU) is available at 60% off until December 11th, 2017, priced at £40 GBP.
Plugin Boutique has also launched a sale on other W.A Production plugins, offering a 50% discount on the Pumper and Helper Series plugins, as well as some sound packs. This offer expires November 30th.
More information: Plugin Boutique / W.A Production