Plugin Boutique has launched the exclusive W.A. Production Summer Bundle, a limited time collection comprising 5 production-ready plugins at 95% OFF regular.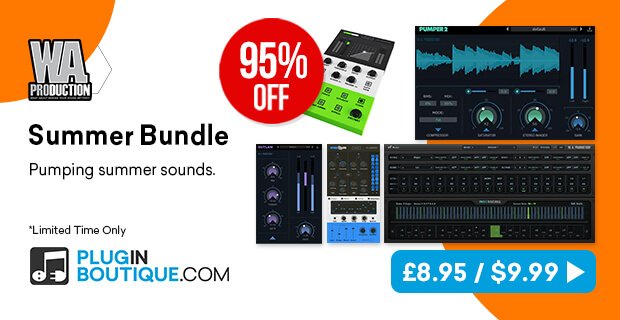 Are you ready to take full control over your sound? Then let your audio quality soar to revolutionary new heights with the W. A. Production Pumping Summer Bundle. Featuring five production-ready plugins, the collection of tools will allow you to compose, compress, saturate and produce your sounds to complete perfection.

The Summer Bundle by W. A. Production will not only give you total tonal control, but it will also make your mix a true summer scorcher. The Summer Bundle is a Plugin Boutique exclusive offer and will only be available for a limited time.
W.A. Production Summer Bundle includes:
The bundle is available for only £8.95 GBP / $9.99 USD until August 5th, 2019.
More information: W.A Production