Plugin Boutique has launched a sale on the Ultimate MIDI Bundle by W.A. Production, featuring three MIDI plugins and four expansions at 90% off regular.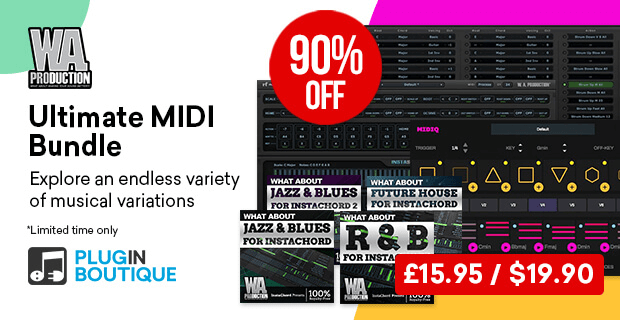 The bundle includes Instascale, Instachord, MIDIQ and 4 preset collections with chord stylings for Future House, Jazz, Blues, and RnB.
Do you ever get stuck when writing a chord progression? Or hate when you there is just one note that doesn't sound right in what could be the best lead you've ever written? W. A. Production is here to make sure that you complete that scale, find that fitting chord and make progressions that are out of this world with the Ultimate MIDI Bundle.

You will never hit another creative roadblock again with an endless variety of chord options and variations. Rather than just covering the major and minor, we have developed options that span multiple styles and structures. Triads, augmented and diminished have never been so easy. W.A Production have put Music Theory at your fingertips so you don't have to stop and look up what the next note in a scale is or what notes make a specific chord. W.A Production's plugins are easy to use with everything clearly labelled and in a font size that you can actually read.
The bundle is on sale for only £15.95 GBP / $19.90 USD from W.A. Production and distributor Plugin Boutique until January 7th, 2020.