W. A. Production has released an update for its InstaChord MIDI processing plugin that helps you play chords and chord progressions in a very simple way.
The update includes a new voice mode, updated guitar voicing modes, updated basic and inverted chords, and more improvements.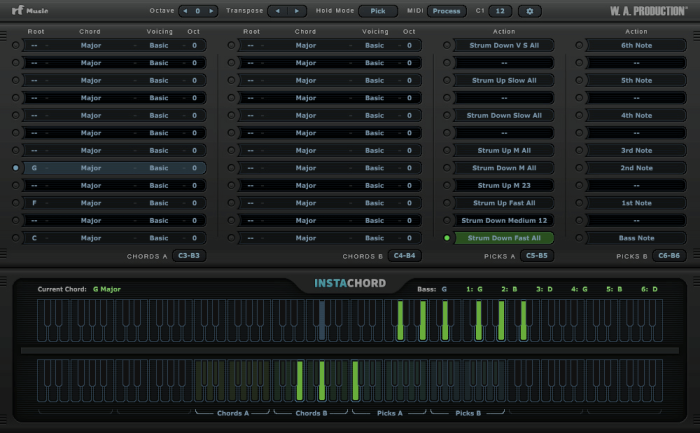 Chord progressions and chords in general are a very important part in all genres of music, especially EDM. EDM having the most dynamic range of chords and elements than most genres. So we get that it is SUPER important to have a catchy and rhythmic chord set up. InstaChord adds a major ease to creating these catchy chords by basically doing it for you but allowing you to 100% customize how the chords are strummed, what notes are in the progression, velocity, and the octave you want it set it.
Changes in InstaChord v1.0.2
Added a new voice mode: Wide.
Updated the guitar voicing modes for most of the chords and replaced them with better sounding or more realistic ones.
Updated some of the basic and inverted chords with a better arranged ones.
Renamed 11b5 to 11b9 which was the correct name for the chord.
Preset manager now scans for one layer of subfolders and lists them on the menu to help organizing the presets.
Added Lock buttons for each part so they won't be effected when loading a preset.
Octave, Hold Mode and C1 values will not be changed when loading a preset.
Fixed an issue with notes getting stuck in Logic Pro on some machines.
New option on the menu to copy preset files to Instachord's preset folder.
InstaChord (VST/AU) is available from Plugin Boutique for only £10.95 GBP until May 1st (80% off regular). The update is free for registered InstaChord owners.
More information: W.A. Production InstaChord