W.A. Production has released its new audio effect plugin Mutant Reverb, a mono-to-stereo reverb plugin with a built-in ducker.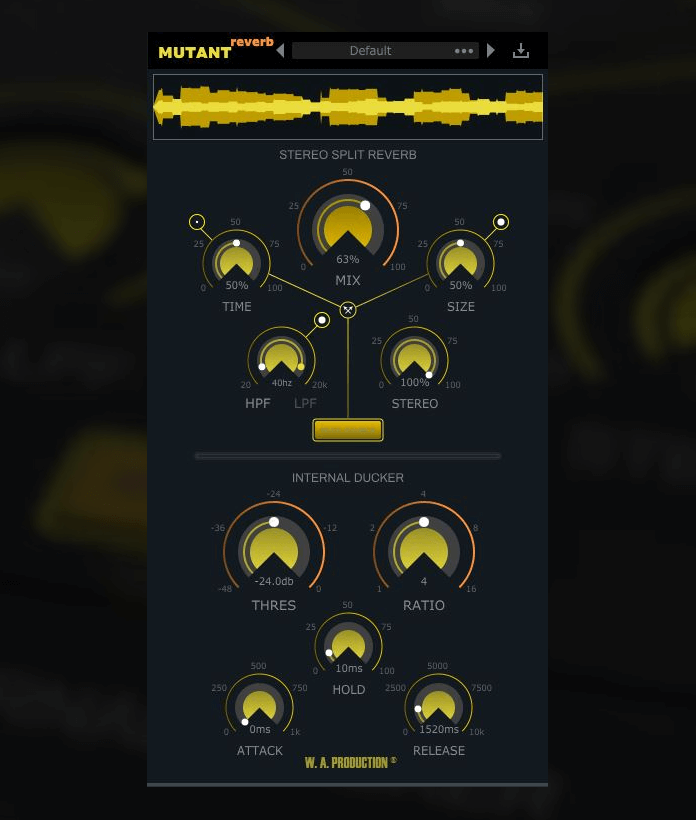 The plugin is perfect for vocals, percussion, synths and many other applications where you need precise control of reverb tails.
Adding reverb to sounds gives warmth, character and places the sound in a real-world space. However, big problems arise when a reverb tail masks the clarity of the original signal, resulting in a muddy and undefined sound. Mutant Reverb is the solution, in just a couple of clicks, you can duck the reverb processing out of the way of the original audio without any complicated side-chain or compression routing. Just plug and play.

Mutant Reverb offers Stereo Split processing with a lush reverb algorithm that can turn a mono source into a stereo reverb signal. W.A Production has also included several controls to tune the room and tail character of the reverb effect. The Internal Ducker section gives you the typical threshold, ratio, attack, hold and release controls, to create space in your mix. You can even mute the original signal, to listen to the ducked reverb effect in precise detail or use the plugin on an effect bus.

The visual feedback section at the top of the interface shows how the dry and wet signals are interacting in two distinct colours, making it easy to identify the reverb and ducking. Whether you're producing vocal, synth or percussion tracks, Mutant Reverb should be in your back pocket to create space and clarity in the mix.
Mutant Reverb features
Clean sounding algorithmic reverb.
Built-in internal ducker with compressor-style controls.
Many presets for a wide range of reverb parameters.
Click free bypass control.
Time, Size and Frequency filter dials.
Advanced controls for Pre-Delay, Diffusion & Dampening.
Real-time waveform display.
Full PDF Manual & Tutorial video.
Mutant Reverb is on sale from W.A. Production and distributor Plugin Boutique for the intro price of £9.90 GBP / $11.70 USD until November 4th, 2019.