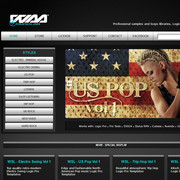 WaaSoundLab has launched with the introduction of 17 brand new professional loops and samples libraries.
WaaSoundLab provides producers, composers, recording studios and DJs high quality and royalty free innovative Logic Pro templates, construction kits, up-to-date loops and samples libraries, at competitive prices.

Besides our excellent Dance music and Hip Hop libraries, our uniqueness is we provide niche libraries such as Electro Swing, Trip Hop, Lounge or Easy Listening packs, fulfilling specific gaps left by other brands.
Currently available from WaaSoundLab: Easy Listening Vol 1 & 2, Electro House Vol 1, Electro Swing Vol 1 & 2, Hard Rock Vol 1, Hip Hop Vol 1, Lounge Vol 1 & 2, Minimal House Vol 1, New Wave Vol 1 & 2, Trip Hop Vol 1 & 2, UK Rock Vol 1, and US Pop Vol 1 & 2.
Each sample library is available to purchase for 49.95 EUR. Bundles of 2 sample libraries are 79.95 EUR each.
More information: WaaSoundLab