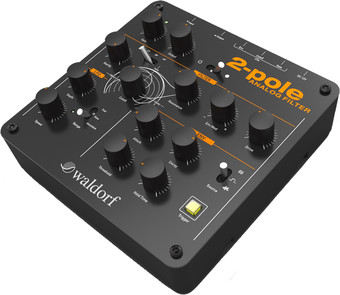 Waldorf has introduced 2-Pole, a new hardware analog filter unit.
2-Pole is giving the guitar player, the DJ, or the keyboard player access to the heart of the Waldorf sound – with an inspiring user interface with a one knob/one function philosophy.

Spice up your live performances with dramatic filter sweeps that really cut through. Funk up your guitar licks by hooking a pedal controller to 2-Poles' cutoff CV In or using the integrated envelope follower. Animate your pad sounds using 2-Pole's LFO.

But beware – no matter what you do with this tiny black box, make sure you set the levels to your amplifiers and speakers correctly, as 2-Pole is yet another beast from Waldorf – with love!
2-Pole features
Fully analog signal path: Preamp -> Filter -> Overdrive.
Award winning Waldorf analog multimode filter technology.
Filter can be modulated by LFO, envelope follower or external signal.
Preamp with overdrive capability for direct connection of instruments like bass or guitar.
Post-filter overdrive with adjustable gain.
LFO with different ranges, rate up to several kHz.
Envelope follower with trigger section and different modes.
True Bypass.
Cascadable to stereo (for two 2-pole units).
Pricing and availability TBA.