Waldorf Music has released the previously announced firmware 2.0 update for its Quantum synthesizer, featuring the new Kernel oscillator type and an array of further additions and improvements.
The new Kernel mode compliments the four previously available synthesis algorithms Wavetable, Waveform, Particle and Resonator. This opens up new grounds of serious sonic exploration and increases the already staggering number of possible sounds by another level.
Kernel mode is engaged by pressing the Wavetable and Waveform button of one oscillator at the same time. In Kernel Mode, up to six so-called Kernel Operators can be combined within a single oscillator. Each of those Operators is an oscillator of its own, supporting basic waveforms, wavetables and noise. All of them can be combined and interlinked freely. Choose between classic Phase FM, true FM and wavetable position as modulations at audio rate between the kernels.
There is an innovative Template Mode featuring 14 factory templates to create classic FM sounds through to forward-looking inharmonic textures and abstract tones. Those templates feature five individual meaningful sound parameters each, and a further five macro parameters are available in the Quantum Synthesizer's main Modulation Matrix. Furthermore, you can use the Full Edit mode in order to delve deeper into the sonic structure of the Kernel mode and edit the kernels freely as you like.
It is perfectly possible to view the Quantum Synthesizer's Kernel synthesis abilities as an oscillator construction kit, allowing for traditional approaches like a six-operator FM synth, as well as providing an experimental space for future-facing synthesis techniques.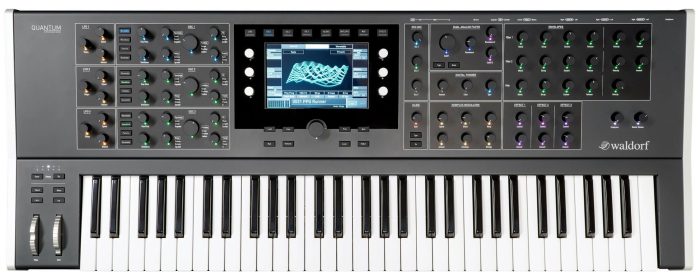 The new firmware also adds an array of other additions and improvements in keeping with the innovative instrument's apt appellation.
Improvements have been made in the Wavetable, Particle and Resonator oscillator models and the Modulation Matrix. The Sequencer now has a Parameter-only mode. USB storage devices are now supported. Expanded AudioFile Editor functions are now available and allow for editing samples within Quantum. Samples will now automatically be imported and exported together with the patches. Plus, many further improvements and fixes have been made.
Quantum is available at a suggested reseller price of 3,550 EUR (excluding tax).
Owners of the Quantum Synthesizer can download the version 2.0 firmware update for free from their myWaldorf account where they can also download a sound set with over 250 new Quantum Synthesizer patches for free.
More information: Waldorf Music