Waldorf has announced that its 2-Pole analog filter device is now shipping.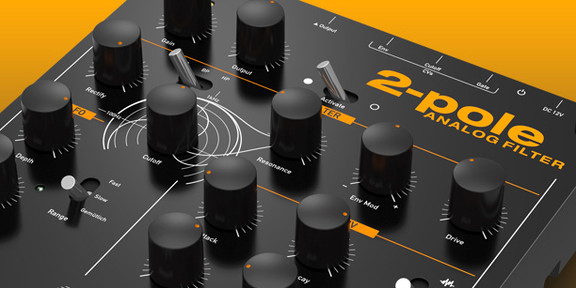 2-Pole is giving the guitar player, the DJ, or the keyboard player access to the heart of the Waldorf sound – with an inspiring user interface with a one knob/one function philosophy.

Spice up your live performances with dramatic filter sweeps that really cut through. Funk up your guitar licks by hooking a pedal controller to 2-Poles' cutoff CV In or using the integrated envelope follower. Animate your pad sounds using 2-Pole's LFO.

But beware – no matter what you do with this tiny black box, make sure you set the levels to your amplifiers and speakers correctly, as 2-Pole is yet another beast from Waldorf – with love!
The first shipment of the new 2-Pole is now available from selected Waldorf dealers.
Waldorf has also announced a limited time sale on its software synthesizers.
For all who cannot wait any longer for 64-bit versions, all our soft synths are on sale for 30% discount over the following weekend. Yes, we'll notify you as soon as your free upgrade to the 64-bit version will be available. To claim this special offer, please go to our webshop and use this Coupon Code for the 30% discount: 2pole
This coupon is valid for purchases of Waldorf Edition and upgrade, Largo, PPG Wave 3.V and upgrade, Lector and upgrade, and License SL.
More information: Waldorf