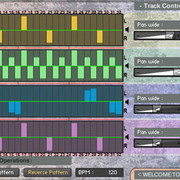 Watunlib.com has lauched its website, offering virtual instruments for Native Instruments Kontakt.
Watunlib.com is the meeting of two musicians with different backgrounds but with a common passion for original instruments … and computers! Thus was born the idea of designing virtual instruments … and to sell them …

Our first task was to sample a Waterphone Aquasonic Super Mondo, and propose a number of playing techniques, some of which may be tuned chromatically, new function for such an instrument and completely redefining how to use it!

Subsequently, we decided to continue on this path, always in a spirit of originality and innovation. Loop Kontrol, rythmic and melodic loops builder, meets these criteria (at least we hope so).
Watunlib is available to purchase for 69 EUR, Loop Kontrol is 49 EUR. Prices incl. VAT.
Visit Watunlib.com for more information.