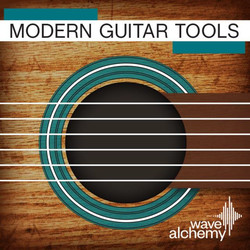 Wave Alchemy has announced Modern Guitar Tools, a fresh and exciting collection of over 400 guitar performances, boasting a wide range of playing styles, musical genres and tempos.
Expect to find a versatile selection of unique guitar loops, all expertly played and recorded live with a stunning collection of acoustic, semi-acoustic and electric guitars and a multitude of high-end microphones and amp combinations.

All loops have been further edited by hand and individually processed (where beneficial) with high-end outboard gear such as an Eventide DSP-7000, Schippmann Ebbe und Flut, Culture Vulture, A-Designs EM-PEQ, EL Fatso and Distressor and more…
Modern Guitar Tools features
405 24-bit, 100% royalty free wav guitar loops and performances. Tempos ranging 65-165 BPM.
Distorted Guitar – 30 overdriven guitar licks, French-house style chords and heavy musical Riffs.
Experimental & Percussion – 71 multi-layered ensembles, expressive percussive guitar, ethnic soundscapes, creative acoustic guitar layers and evolving melodic performances.
Funk & Dance – Acoustic – 25 acoustic guitar loops, funky disco licks, Latin chords and more.
Funk & Dance – Electric – 132 electric guitar loops, filthy disco house licks, funky filter-house stabs, jazzy chords and more.
Palm-Muted – 25 palm-muted electric guitar loops and summery melodic riffs.
Soundtrack & Acoustic – 98 guitar performances covering a wide range of styles including Jazz, Blues, soundtrack/film, pop, Latin, Spanish, classical guitar and more.
Wah-Wah Guitar – 24 funky wah-wah and funky disco house loops.
254 REX2 loops.
The sample pack is available to purchase for £27.95 GBP.
More information: Wave Alchemy / Modern Guitar Tools