Wave Alchemy has launched Revolution-606, a new instrument library for Native Instruments Kontakt.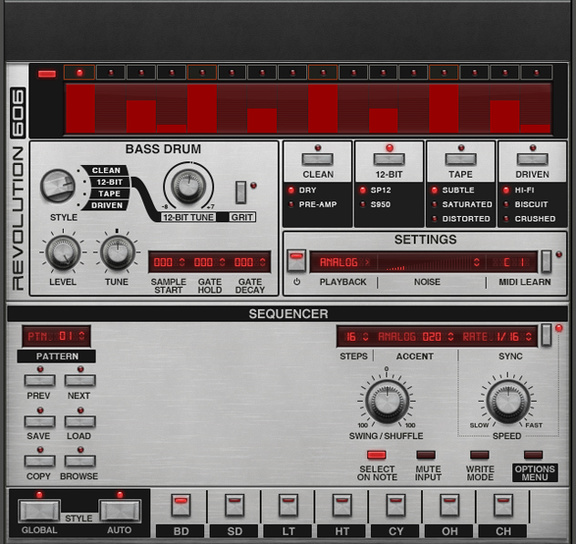 The iconic TR-606, recorded 10 times, through 10 unique, characterful signal chains… 5381 unique samples, seamlessly integrated within an intuitive, highly-programmable virtual drum machine.

Introducing Revolution-606 for Kontakt 5 – The most authentic TR-606 software re-creation ever created!

Imagine a studio equipped with high-end outboard gear, vintage analogue tape machines, classic 12-bit samplers and filthy lo-fi sound shaping boxes. Now imagine taking a TR-606 and being able to process and shape each drum sound individually through unique, highly versatile signal chains – The tone shaping possibilities would be almost limitless…
Revolution-606 features
5,381 samples integrated as a unique virtual drum machine with intuitive graphical interface.
Recreate every nuance of the TR-606 drum machine or define your own unique sound using the worlds most advanced sampling engine, Kontakt 5.
Extensive 'style' types, allowing real-time selection of unique, high-end analogue processing chains, per drum sound.
Mix and match characterful analogue processing chains in real-time.
TR-style 16 track step-sequencer with accent control, host sync, swing/shuffle and extensive parameter settings.
Easy synchronization with any host or DAW.
Dedicated 7-track mixer with individual processing (EQ, compression, transient designer), volume control and pan for each drum sound.
Dual delay and reverb units loaded with custom built Impulse Responses.
Master processing including multi-track Tape machine, compression and master EQ modules.
Design and browse hundreds of presets, all instantly switchable from a single click.
Modular preset browser allows for instant recall of Drum Patterns, Mixer Channels and Tape Machine / Master Bus Settings in thousands of different configurations.
Browse 700 included patterns in various styles and easily create and share your own using a fast and intuitive external pattern/preset browser.
800MB in size after unpacked.
The library is available for purchase for £34.95 GBP. Requires a full version of Kontakt 5.2.1 (or higher). Custom built, feature rich Ableton Live Drum Racks (Live 9) and NI Maschine pack included for those who may not own Kontakt 5.
More information: Wave Alchemy / Revolution-606