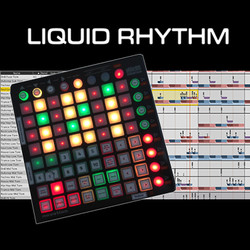 WaveDNA has released version 1.3.1 of Liquid Rhythm and Liquid Rhythm Intro, the MIDI sequencer and beat creation software for Windows and Mac.
We haven't had an update to Liquid Rhythm in a while. Our release cycles are generally short, but the winter season has been very busy for us. Christmas was fun, NAMM was exciting, the snow… My goodness, so much snow. We're finally releasing an update to our last major release.

It contains many bugfixes, a few enhancements to features, and most notably, the ability to control Liquid Rhythm using the Novation Launchpad S through the MaxForLive Clips Mode via Ableton Live.

We've had Launchpad support for standalone, and now we have support for Ableton Live users with the MaxForLive Clip mode for Liquid Rhythm. We're also working on bringing MIDI scripting support to Ableton's Push controller. This release features a beta version of that implementation – it's a lot of fun! (Though we're still ironing out the kinks.)
Details on what's new in version 1.3.1 can be found here.
Liquid Rhythm is available to purchase for $129 USD/$49 USD (Intro).
More information: WaveDNA