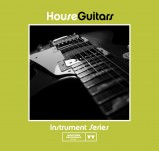 Waveform Recordings has released House Guitars, a zeitgeist-surfing collection of 150 disco, R&B and funk-inspired guitar licks, riffs and loops optimised, reworked and resampled for the new-wave of house, deep house and nu-disco productions.
Taking influence from some of hottest underground house labels and artists such as Crosstown Rebels, Hot Creations, Maceo Plex, Lee Foss, Soul Clap and Russ Yallop, House Guitars is a sexed-up and funked-out collection of floor-ready guitar licks that ooze classic disco vibes, 80s pop and 90s R&B energy.
House Guitars features
Clean Loops – 43 live and direct 4-bar loops left 100% clean – chop, re-arrange and process in limitless ways.
Re-Sampled Loops – 22 heavily re-worked loops packed with tripped-out sonics, glitched-out rhythmatics and maxxed-out 'verbs and delays.
Riffs – 45 funktastic flows and fret-busting rhythms bursting with classic funk timbres.
Short Licks – from jangling 80s licks to classic 70s disco rhythms: 31 melodic idea-sparkers.
Wah-Wah Loops – 9 wonky wah-wah riffs perfect for that filtered nu-house sound.
All loops are tempo-labeled at 125bpm and offered as industry-standard 24-bit Wavs.
House Guitars is available to purchase from Sounds To Sample for 16.95 EUR.
More information: Sounds To Sample