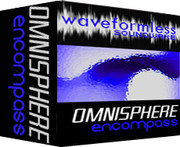 Waveformless Soundware has announced the release of Encompass, a soundset for Omnisphere by Spectrasonics.
True to its name, Encompass covers a wide range of sonic territory from convincing vintage and eighties synths, to punchy synth basses, to cinematic pads, to warped textures, to pulsing gates, to soaring arps, and even electronic drums.

A common complaint we hear about the presets that ship with Omnisphere is that a lot of them sound amazing, but are hard to actually use in a full arrangement. Encompass was programmed with this in mind, aiming to provide sounds you'll actually want to use in your songs. And speaking of programming, the mod wheel modulates something on every patch allowing you to transform the sounds as you play.
Encompass features 128 sounds for Omnisphere. The soundset is available to purchase for $9.99 USD.